First off, I want to thank my awesome readers for pushing the Quantum Vegan past its first 1,000 views this week.  When I started this blog, I had no idea it would get anywhere near that much attention.  Your interest and comments make me happy that I decided to share my vegan adventure on the web!
Now onto the newest gratuitous pictures of food: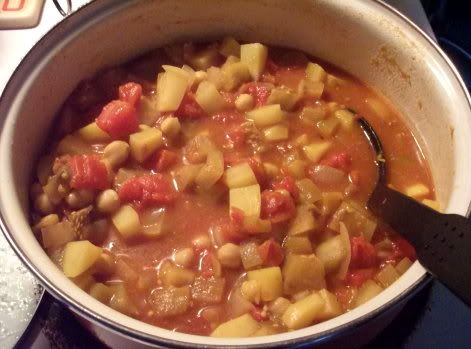 The recipes of Robin Robertson struck again after I discovered some local eggplant at the grocery store.  This time of year, the two "big names" around here start carrying produce from local farms, which I think is groovy for several reasons.  One, I grocery shop at the crack of dawn before most of the farm stands are open.  Two, it gives people easy access to produce that's better than the garbage most grocery stores spend the rest of the year trucking in from who-knows-where.
And three, of course…it's tasty!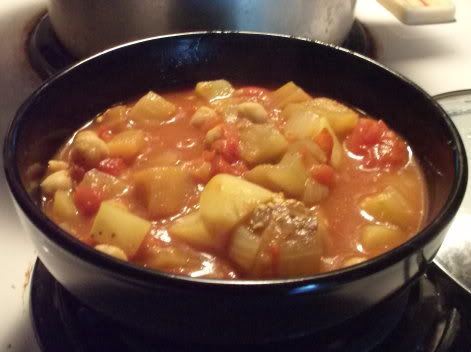 One of the eggplants became this, Spicy Eggplant & Potato Stew from Vegan Fire & Spice.  I've concluded that I have to be a little more careful when buying hot peppers; I have a tendency to look at the mixed offerings and grab whatever strikes my fancy.  This often leads to the accidental purchase of extremely HOT little chilies!
Such was the case with this.  Between the cayenne and the minced hot pepper, this was a truly spicy experience.  Very, very tasty, though.  The only thing I felt it was lacking was a sprinkle of allspice.
There is another eggplant waiting in the fridge to become something else.  Eggplant parm, perhaps?  Or roasted veggies of some kind.  I haven't decided yet!