It's no secret around my house that I love spicy food.  So when The 30-Minute Vegan's Taste of the East came out, I was understandably excited.  I haven't had many chances to cook from it yet, but over the weekend I was feeling the need for something spicy and Indian so I decided to give it a workout.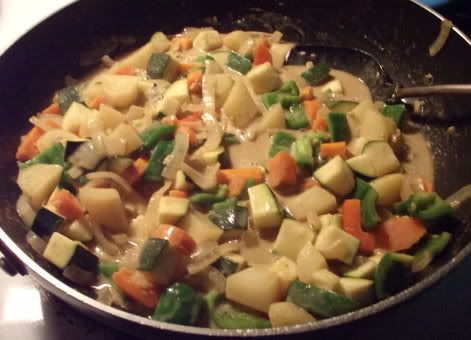 Madras curry was the perfect recipe.  Lots of garlic, ginger, and Indian spices with coconut milk and a mix of diced veggies.  It called for a whopping two teaspoons of cayenne pepper, four times as much as I've ever used in a recipe, so I decided to cut it in half to be on the safe side.
For the veggies, I cut up potatoes, carrots, zucchini, and bell peppers.  I also cooked up some brown rice in veggie broth with a little turmeric to compliment the color of the curry.  All in all, it fulfilled that little part of my brain that loves an aesthetic meal as well as a tasty one.  The only thing I would do differently next time would be to steam the potatoes and carrots a bit in advance; they were a little on the firm side.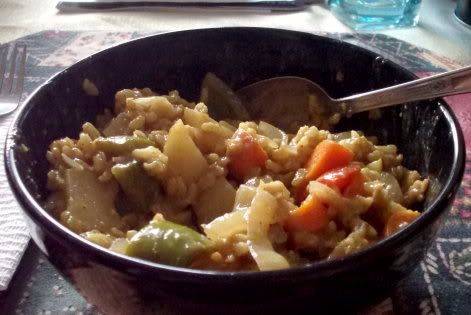 The downside was that my mom thought it was way too hot, even with the reduction in cayenne pepper.  I, on the other hand, could have stood more.  I probably won't be making this as a family meal too much in the future for that reason, but it was delicious in any case.  As a side note, Mom had leftovers of it after they had been in the fridge for a while, and said that it was fantastic cold.  Perhaps I'll make it a day ahead to have around as a cold "lunch curry salad" or something similar!
Now I must be off to tend to the chickpea cutlets that are baking for dinner.  I'm going to try to invent an accompanying Dijon mustard sauce, and there's garden-grown Swiss chard to go along with them.  Mmm, dinner.
Question for the comments: How spicy is too spicy, or is nothing spicy enough?