The past couple of days have been busy ones in the kitchen.  First, this came!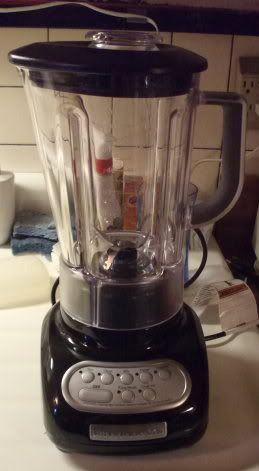 Our old blender has been missing a part for a while now.  It's practically antique, and my mom and I couldn't find anything at the store that looked like a worthy replacement.  So we invested in a refurbished 5-speed KitchenAid, which I'm more excited about than is healthy.
I got to christen it with my first attempt at a raw dessert.  I ran across this berry cobbler on Twitter recently, and checked out the original, too.  I wound up making a combination of the two recipes, using a mixture of blueberries, strawberries, raspberries, and blackberries.
There was a lot of processing and blending involved: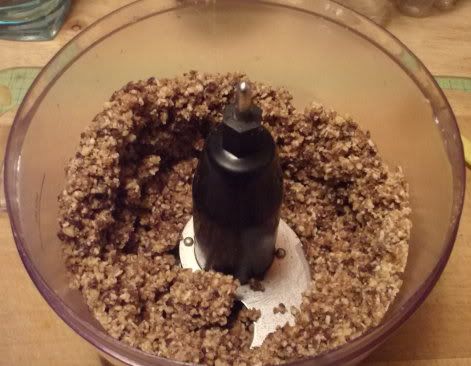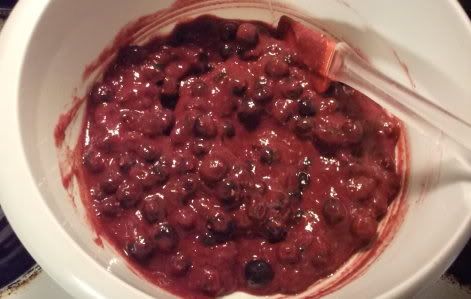 The end result reminded me a bit of a traditional berry cobbler.  And it's super tasty.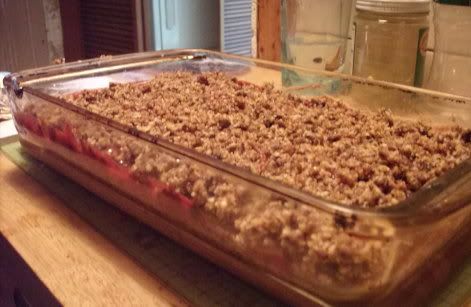 I predict it will last about three days before my mom, brother, and I gobble our collective way through it.  I'll definitely make more as more berries come in season.  It was relatively easy to make, and the flavor is so much more intense than other desserts.  I keep forgetting how fresh and wonderful raw food recipes taste!
Last night was another somewhat experimental dinner.  While browsing the library the other day, I ran across Moosewood Restaurant Cooking For Health.  I had been wanting to make something else with sweet potatoes, and lo and behold, there was a recipe for quinoa with sweet potatoes!  As an added bonus, the variation called for greens–spinach, to be exact.
We didn't have any spinach hanging around, but on Thursday my mom and I harvested a bunch of fresh Swiss chard from my grandmother's garden.  I decided to throw that in instead of spinach, and added a can of black beans to make it a full meal.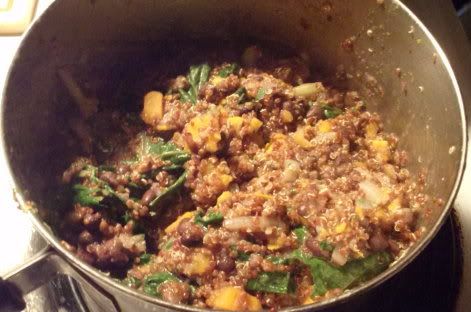 Using red quinoa made it a colorful mix, and a little cilantro and lemon juice mixed in really well.  I'm a fan of cilantro with black beans, but wasn't sure how the chard would take it.  Fortunately, it was a great combination.  I crushed up some raw almonds for garnish.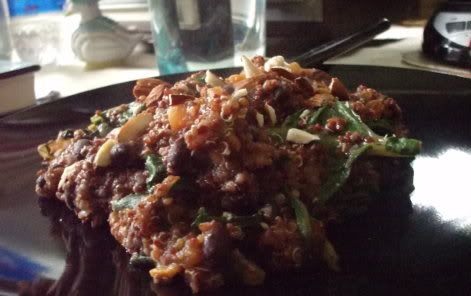 I'm such a sucker for photogenic food!
I'm also a sucker for the new Newsboys CD.  I've been playing the heck out of it, and it's a lot of fun.  It's been my background music while cooking since Thursday.  Tonight it's time for hot food again–more specifically, curry from 30-Minute Vegan's Taste of the East!