Even before I went vegan, I didn't eat eggs all that much.  They were more often a component of baked goods than something to cook up and eat on their own, and I was never a fan of omelettes.  Now that I am vegan, I find it kind of odd that the modern world thinks chicken ovulations are still useful and tasty, but I digress.
A while back, I picked up a copy of Quick & Easy Vegan Comfort Food.  It doesn't get as much mileage as my other cookbooks because most of the recipes are what I think of as "transition foods"–stuff you'd cook to share with non-vegan friends and family, or go-to recipes for new vegans still craving old favorites.  But it does have some good recipes, including a faux tuna salad I make on occasion and, you guessed it, spinach omelettes!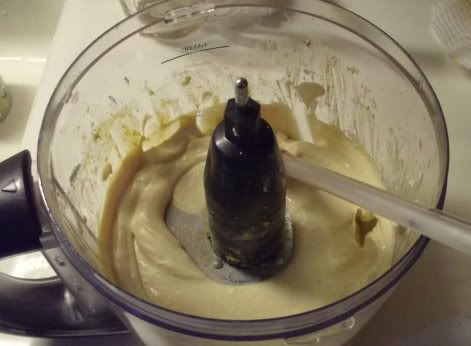 Doesn't look much like an omelette, does it?  The batter is a bit of a strange mixture of silken tofu and various spices, which then gets cooked up in an omelette shape and filled with baby spinach, peppers, and onions.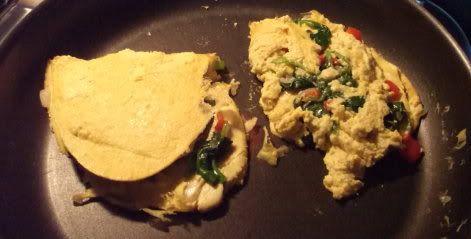 I found it kind of hard to keep them from becoming a huge mess instead of resembling omelettes, but that could have just been me since I never had a talent for keeping things neat even with regular eggs.  Either way, they turned out nicely!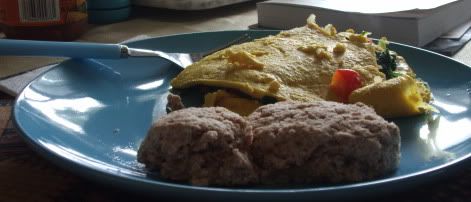 I made some spelt breakfast biscuits from the same book to go along with them, and it was great.  There's something about having breakfast for dinner that's fun and comforting.  And I do get a kick out of veganising "regular" foods once and a while.
Both the omelettes and the biscuits were surprisingly good with salsa, which is the only thing I don't think I'd add if I was eating this for breakfast.  Then again, I do love salsa.  This was a black bean and corn variety that I grabbed at the store by accident a while back, but it turned out to be a pretty delicious mistake.  It's been good on these, quesadillas, and pretty much everything else I normally put salsa on.
Question for the comments: What's your favorite breakfast food to have for dinner?