I've been wanting to do a vegan "sushi" night for a while, and last night I got the chance to try it out!  Having already experimented with nori rolls, I wanted to try adding tempura to make it a full meal.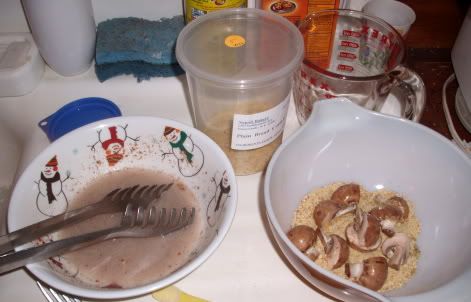 I went with the Batter Baked Tempura recipe from The 30-Minute Vegan, since it sounded amazing.  It's really hard to find vegan bread crumbs around here, except at a bakery that's 45 minutes away, so I whipped up their pretzel crumb recipes, too.  Turns out it's an awesome way to use up the broken bits that are always hanging around the bottom of pretzel bags!
The batter part of the recipe called for flax meal, water, and baking powder, which is something I never considered.  It worked quite well, and made for a light, crunchy tempura when all was said and done.  I used mushrooms, broccoli, onions, and summer squash–all of which came out tender inside the breading!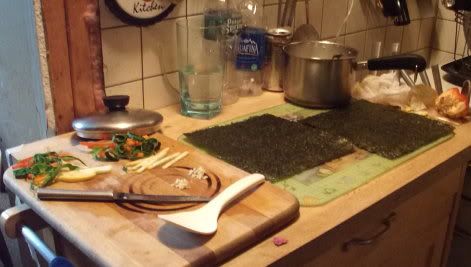 This is my nori roll preparation area.  (Yes, I'm desperately in need of more counter space.)  Having done this bit before, it didn't take very long.  The rolls were just about done by the time the tempura finished baking.  All in all, I think it was about a half-hour process for everything, since I pre-cooked the rice around lunchtime.  The nori rolls got filled with fresh ginger, carrots, red and green bell peppers, slices of green cabbage, and a little bit more summer squash.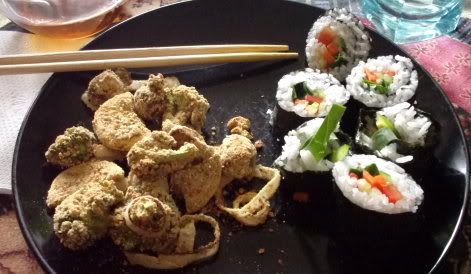 I love the way it all looks together, and I couldn't resist taking this picture, too: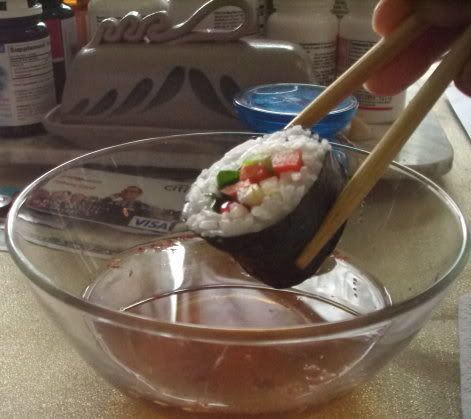 Basic dipping sauce made with rice vinegar, a little Bragg's Liquid Aminos, water, and some red pepper flakes.  verdict?  Yum!  And definitely something I would do again.  It made a great light meal, and only having to run the oven for a little while was nice in the hot weather.
As a side note, I think I'm in love with rice vinegar.  I found some at a slightly larger grocery store this past week, and this was my first time using it in anything.  Totally delicious.