So what do vegans eat on 4th of July?  I'm not sure about other vegans (though I read quite a few tasty-sounding tweets yesterday!), but in the Quantum Vegan household, there was quite a bit of corn on the cob to be had.  Before that, though, I tried to beat the forecast heat of the day and make cookies before the temperature began flirty with 90°F.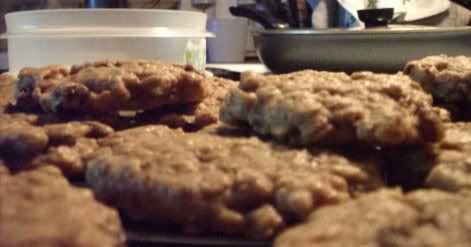 Oatmeal raisin cookies, one of the simpler recipes from Vegan Cookies Invade Your Cookie Jar.  My mom bought an oatmeal raisin cookie at a coffee shop on Saturday, and the smell made me crave a batch of the vegan sort.  I baked them for a shorter time to assure a chewy finished cookie, and they came out amazing.
Speaking of amazing, this is what the Quantum Vegan had for 4th of July dinner: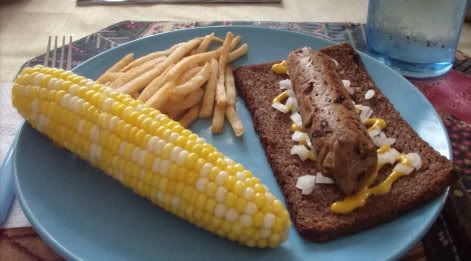 Sweet, tasty corn on the cob, french fries made of real potatoes (gasp!), and vegan sausages from the Vegan Dad blog.  The flecks in the sausage are bits of black beans; the recipe calls for pinto and we didn't have any.  In my opinion, the sausages taste even better this way.  All together, it was an awesome dinner.  Well worth the time it took to put together the sausages earlier in the week!
What did you all do for the 4th?