I have a habit of picking up random vegetables when they're on sale.  This past week, it was eggplant.  I hadn't cooked anything with eggplant in a while, so I grabbed a couple with the intention of hunting down a good recipe this week.
1,000 Vegan Recipes once again yielded something tasty: couscous-stuffed eggplant!
The recipe was a bit time-consuming, but simple.  Couscous, chopped eggplant, onions, red peppers, and a little corriander, salt, and pepper…mmm.  It also called for golden raisins, but lacking those I used currants instead.
The end result was amazing.  My family and I pretty much sucked it down, and I think it's a new favorite!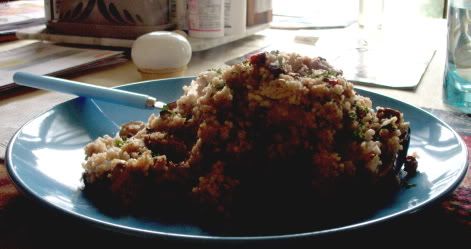 Plus, as I may have already mentioned in previous posts, I'm a sucker for couscous.  And new recipes.  And Robin Robertson.  Heck, I'm a sucker for good food.
Speaking of, today's been a busy day in the kitchen already.  Since the forecast was for a kind of hot and humid day, I made muffins around 6:30 this morning so they'd be done before it got too warm.  And as I type this, there's a batch of Veganomicon's seitan recipe simmering on the stove.
For dinner tonight, I'm keeping it simple with an old favorite black bean and rice recipe.  If I remember, I'll take some pictures!