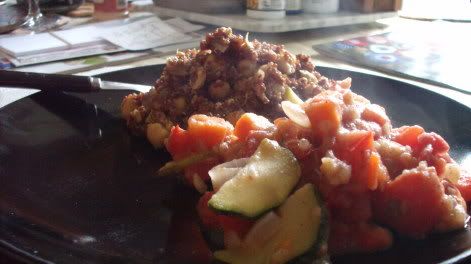 I had a craving for chickpeas a couple days ago, and this is what came of it.  Yes, I do occasionally stray from the one-pot meal and cook more than one dish–from more than one cookbook!  I went with chickpea quinoa pilaf from Veganomicon, and vegetable masala from Vegan Fire & Spice.  Talk about yum!  The veggie masala is definitely a new favorite of mine.  Potatoes, carrots, zucchini, peppers, onions, tomatoes…delicious.  Plus I'm a sucker for anything seasoned with generous amounts of garam masala!
Speaking of being a sucker, I used to be one for pizza.  I'm half Italian, so I can't really make any secret of how much mozzarella I ingested before losing the ability to eat cheese.  However, since going vegan, I've lost most of my taste for even the good vegan cheese substitutes.  The more I use nutritional yeast and make my own "cheese" sauces, the less I feel the need to add commercial vegan cheeses to things.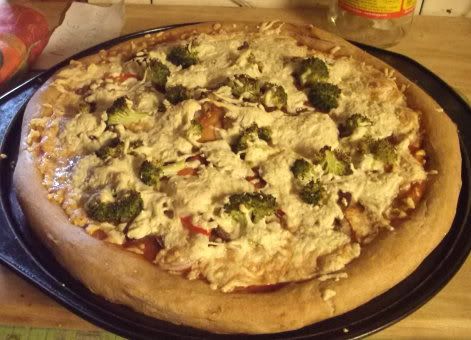 So what's this?  This, fellow food lovers, is my first foray into the world of Daiya.  Our local co-op finally got it in last month.  Of course, I'd heard all the hype and wanted to try some.  And given that I am still somewhat of a sucker for pizza, I picked up the mozzarella-style shreds and…you guessed it, made a pizza.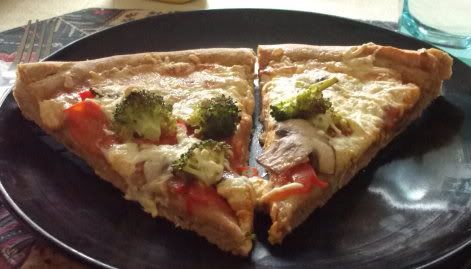 Veggie pizza with onions, red peppers, mushrooms, and broccoli, to be exact.  And yes, Daiya is worth it.  It lives up to the hype so much that even my 100% Italian mom was impressed.  Needless to say, we gobbled it down.  Given the price tag of Daiya, it will have to be an occasional treat, but it will definitely be finding its way onto more pizzas in our house in the future.
And that's what I've been up to on the food front!