Looking through my Photobucket albums yesterday, I realized that there are a lot of recent pictures of this: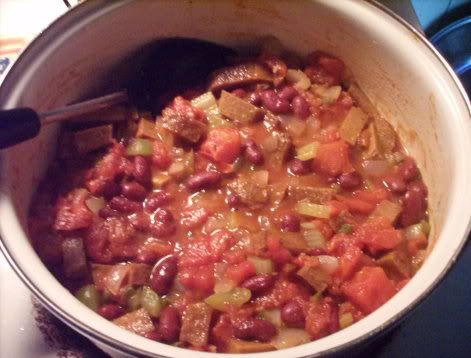 It's the biggest saucepan out of a set of red-and-white pans my mom bought a while back, and apparently I've been making more one-pot meals in it than I thought.  Not that this is a bad thing!  The latest concoction above was Robin Robertson's (yep, her again) Jumpin' Jambalaya, out of Vegan Fire & Spice.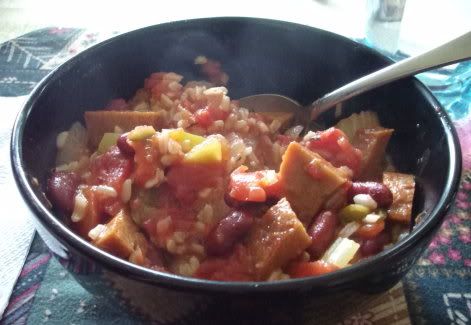 I love that cookbook to bits.  "Decently spicy" isn't good enough for me–I like hot food, and Robertson really delivers in most of the recipes.  The jambalaya was something I'd made before, but it's been a while so I thought I'd whip it up again.  So good with a little brown rice!  I didn't have any homemade seitan left; the stuff in the pictures is from a neat local business called Vegan Creations.  I envy their seitan.  The seasonings are tasty and it's always way more firm than mine ever comes out.
Last night I mixed things up a bit.  Sticking with the Robin Robertson theme (1,000 Vegan Recipes this time), I tried out peppers stuffed with quinoa and pinto beans:
They were pretty awesome, but I think adding a few more spices and a little lemon juice to the filling would be even better.  It was mostly quinoa and mashed pinto beans, with a little parsley, salt, and pepper.  I like experimenting with seasonings, so the next time I make these I'm going to mix it up a bit!
Question for the comments: What's your favorite stuffed vegetable recipe?