I really wanted to do a post about the tempeh-based burgers I made the other night, but for some reason most of the pictures I took didn't come out right.  I do have this one: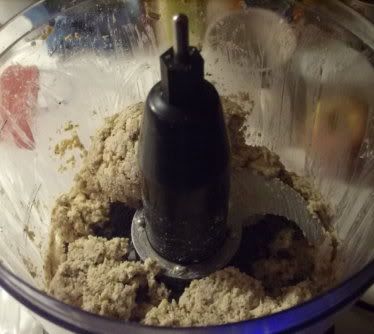 All of the ingredients in the food processor, processed and ready to be made into patties.
The recipe was "Tempeh Tantrum Burgers" from 1,000 Vegan Recipes.  It's become a favorite for my mom and I when we want a fast dinner.  They have chopped walnuts and oats in addition to tempeh, so they're hearty enough to almost make a meal in an of themselves.  We usually cook up a green vegetable as a side.  I like that they can be prepared ahead of time and refrigerated if need be.
I had much better luck taking a picture of my lunch today: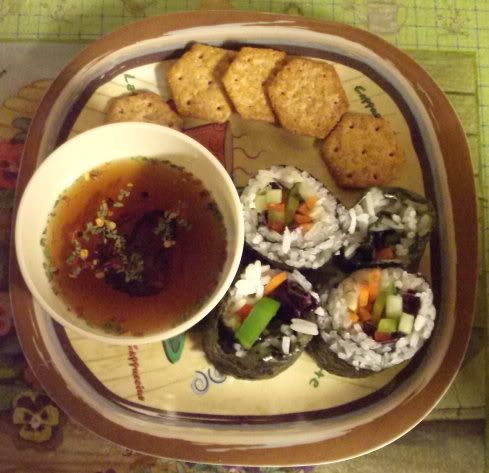 I recently picked up an inexpensive package of nori sheets and have been itching to do something with them.  Ever since I got The 30-Minute Vegan, I've been eyeing the "Sushi Nite" recipe, and that wound up being the inspiration for my lunch.  I rolled up some jasmine rice, bell pepper, carrot, ginger, scallions, red cabbage, and cucumber; and the dipping sauce is dilluted Bragg's Liquid Aminos with cilantro and red pepper flakes.
Yes, it was amazingly good.  No doubt I'll wind up having it for lunch again sometime during the week!
Not much else to blog about just now.  I haven't been taking as many food pictures as I'd like, but I'm going to try and be better about that over the next few days.
Question for the comments: What's your favorite thing to do with nori sheets?