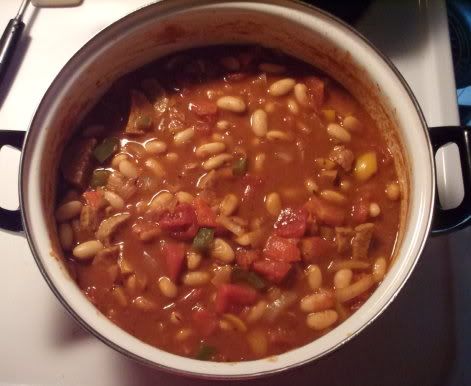 There's really not much to say here except YUM! After searching my cookbooks futilely yesterday for a couscous recipe that didn't require a trip to the store, I set my sights on something else. I still had several links of "sausage" left in the freezer, and thought it might be fun to scare up a recipe to use them in.
Enter my old friend, Vegan Planet
! As I often enthuse to anyone who will listen, it was the first 100% vegan cookbook I acquired, and the book that started my ongoing love affair with the recipes of Robin Robertson. Thus far, I haven't had a miss with one of her recipes. I love them, my family loves them, and she's compiled so many collections that there's always something new to try.
Speaking of, I decided on "Orange and Thyme-Scented White Bean and 'Sausage' Chili", since it sounded unusual and is a bit of a departure from the chilis I'm used to making. Usually I go for a standard veggie-and-bean chili with enough seasoning to melt your lips off. This recipe called for beans and veggies, too, but also for chopped faux sausage and, of all things, orange juice!
Dudes, it was awesome. The flavor combination isn't one I ever would have thought to try myself and, as usual whenever I come across a recipe like that, I'm kicking myself for not being more adventurous with my own recipes.
Mmmm, orange.