I love to cook in general, but every once and a while I'll go on a particularly prolific cooking or baking spree. The past couple of days have been like that and, crazy foodie that I am, I thought I'd share some pictures.
First up is this fun and colorful salad I found while browsing Veganomicon
: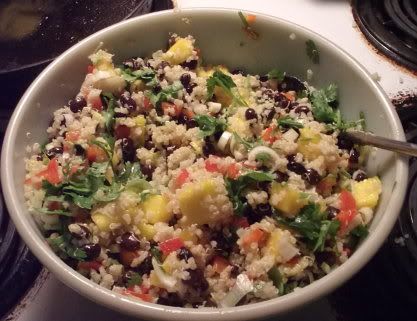 Red peppers, scallions, black beans, mangoes, quinoa, fresh cilantro…really, what's not to like? Reading the recipe, I was reminded of some of the freshly-prepared foods our local co-op offers in their deli section. They're big on colorful mixes of grains, beans, and herbs. This salad is just as good as, if not better than, the concoctions I get there. Plus, mangoes are one of those things I go crazy for.
After tossing all of that together yesterday, I cooked up an impromptu lasagna (which, unfortunately, I neglected to take a picture of). There's no particular recipe to it, but this is what I threw in:
16 lasagna noodles, cooked
1 block rice-based vegan mozzarella, shredded
1 recipe of Veganomicon's tofu ricotta
1 jar organic pasta sauce (we had Muir Glen on hand)
I layered all of that up in a 9×13 baking dish, sprinkled a little vegan parmesan on top, and baked it at 350°F for 45 minutes covered, 15 minutes uncovered. All in all, it made 8 good-sized servings. It came out pretty good, but I think it could have used a little more sauce.
This morning started off nasty and dreary, so I took the opportunity to beat the blues with some cookies: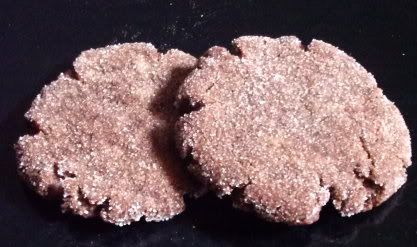 Meet the lovely and mouth-igniting Mexican chocolate Snickerdoodles, straight out of Vegan Cookies Invade Your Cookie Jar
. (Yes, I've been feeling the cookbook love!) I am a sucker for spicy food, chocolate, and spicy chocolate, so these were a very "me" choice. They are very spicy–1/2 tsp of cayenne in the dough–and my mouth was pleasantly lit up by the time I was through munching the two pictured here.
So that's what I've been up to in the kitchen! Next week, I'll be posting some pictures of and ideas for veggie sandwiches, since those are a big item on my weekly menu. 'Til then, rock on!