Having (thankfully!) recovered from my bout with the stomach bug, I've been back to cooking! Anyone who knows me knows that I'm a sucker for both Chinese takeout and rice. However, given the ambiguity of a lot of takeout, I prefer to make my own food.
So what to do when one is craving the ultimate tasty takeout treat, fried rice? Whenever I ask myself a question like that, I inevitably hit the cookbooks. And once again, Robin Robertson
delivered. (Can you tell yet that I'm a huge fan of her recipes?)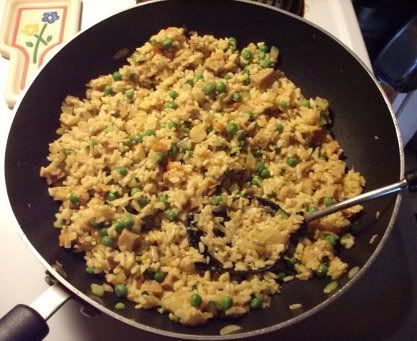 Here's her very tasty vegetable fried rice. The original recipe only called for veggies, including zucchini, which I never would have thought to put in fried rice! In order to make it a one-dish meal, I tossed in some seitan. The end result was awesome, and I'll definitely make it again.
You'll notice that it's the same lovely yellow color as fried rice you'd get at a Chinese restaurant. That's because I also love tumeric. The recipe called for an optional dash of it, and of course I had to put it in.
I have been cooking other things, but nothing like so photogenic. Chances are I'll be breaking out another cookie recipe soon, and hopefully noodling around with a dish or two of my own creation!