I like rice. A lot. Many meals in my household somehow involve it: rice and beans, fried rice, jumbalaya over rice, seasoned rice as a side dish, etc. Given that it shows up on the menu so often, it's kind of silly that it took me until only a couple weeks ago to acquire a rice cooker.
On more than one occasion, other people who love rice the way I do have extolled the virtues of rice cookers. I'll admit that at first I thought it was kind of silly to have a kitchen appliance for the sole purpose of making rice, but then this little beauty caught my eye: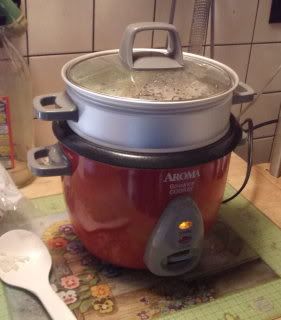 Not only does it cook rice, but it also allows you to steam veggies or anything else that strikes your fancy at the same time. I know. This shouldn't be such a shocking novelty, but both my mother and I were so charmed by the idea that we were convinced to buy the thing.
The first meal I made in it was simple: basmati rice with steamed mixed veggies (broccoli, carrots, mushrooms, red and green cabbage) and tofu cubes. For flavor, I whipped up a batch of Spicy Szechuan Sauce from Vegan Fire & Spice
. Easy as pie and, best of all, next to no cleanup!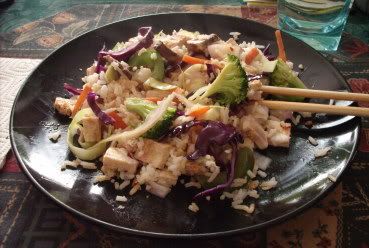 I'm fond of the fact that the cooker will keep rice warm for indefinite periods of time. I also like that it can be used as a crock pot for things like soups, stews, and chilis. I don't think I'll ever use it for sole purpose of making rice, but as a tool for throwing together a quick, simple dinner or one-pot meal, it will come in handy.