There's not much I miss from my days as an omnivore, but one thing I still have fond memories of is ricotta pie. Growing up exactly one-half Italian meant that there was a lot of cheese to be had, and ricotta pie, being made largely of ricotta cheese, was no exception. It had a sweet taste, thick texture, and flaky crust–all enjoyable in their own ways, but definitely not friendly to the lactose intolerant system.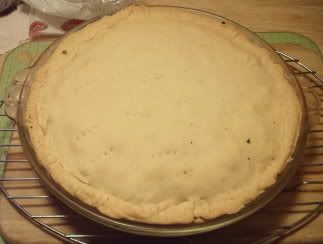 After giving up dairy, I figured I'd never see the likes of such a pie again. Enter the Italian Easter Pie out of Vegan Fire & Spice
by Robin Robertson. While not a veganized version of the ricotta pie I remember, it is a pie of similar type. Savory instead of sweet, and meant for dinner rather than breakfast or snack, Robertson's Easter pie is fully loaded with tofu, vegan sausage, and tons of great seasonings inside a flaky crust.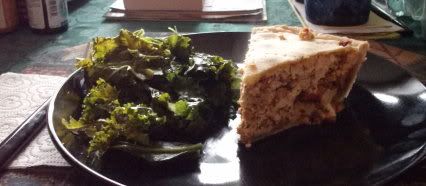 Since it's a bit heavy on the protein, I served it with a simple side of kale. The preparation of the pie itself wasn't difficult, the most time-consuming part being crumbling the tofu and sausage. Overall, another dinner success with plenty left over to share!