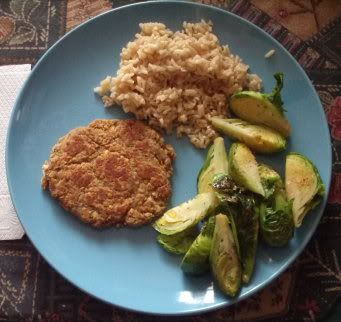 I'm the sort of person who prefers one-pot meals, for several reasons. One, they're much easier to coordinate than a meal that requires cooking a lot of different things at once; and two, there are fewer dishes to worry about afterwards! However, sometimes I like to do my version of going all out and make a multi-dish dinner.
Last night was one of those times. Ever since my mom got me Veganomicon
for Christmas, I've had my eye on the recipe for chickpea cutlets. I love chickpeas and get a major kick out of playing with vital wheat gluten. Plus, making patties, burgers, or cutlets from scratch gives me control over how much salt goes into the final product.
I knew I wanted something green to go along with the cutlets, and since my entire family has been suckers for Brussels sprouts lately, I went searching for a suitable recipe. Enter my favorite vegan recipe guru, Robin Robertson
. I've been known to gush at length about her cookbooks, so that's best left for another entry. Let's just say that I've never gone wrong with one of her recipes. A quick glance through 1,000 Vegan Recipes
yielded a fast, easy recipe for roasted Brussels sprouts with lemon juice. Fast, easy, and Brussels sprouts? Yes please.
The rice was the easiest part. All I did was cook brown rice as per the package instructions, with a little veggie bullion, thyme, marjoram, and basil thrown in to spice it up.
My only complaint was that the cutlets were underdone after the amount of time recommended by the recipe for pan-frying. I may have made them too thick. Other than that, the meal was tasty and well-received by all! Next time, I may try baking the cutlets in the oven to see if they cook through better.
Tonight I'm going to go for something easier, but it was nice to experiment with a little of this and a little of that from different cookbooks in my collection. My family has definitely found a new favorite in those roasted Brussels sprouts!