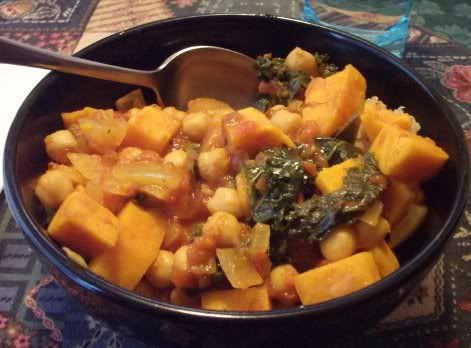 I will eat sweet potatoes any time, any place, anywhere. I love the color, flavor, and texture; they're an extremely versatile vegetable. The other night, I knew I wanted sweet potatoes, chickpeas, and kale, but I also knew that none of my cookbooks had a recipe including all three. So I set out to create my own!
The result is a sort of amalgamation of the chickpeas and sweet potatoes from Vegan Fire & Spice and the African sweet potato and peanut stew from Vegan Planet. I looked to both recipes for inspiration and was happy with the results. Serve it over rice or couscous for a complete, tasty meal!
African-Inspired Sweet Potatoes with Chickpeas & Kale
serves 4
Ingredients
1 tbsp. vegetable oil
1 medium onion, chopped (about 1 cup)
2 cloves garlic, pressed or minced
1 tbsp. minced fresh ginger
1/2 tsp. turmeric
1/2 tsp. cumin
1/4 tsp. cinnamon
1/4 tsp. cayenne
salt & pepper to taste
1 lb. sweet potatoes, cubed
1 1/2 cups vegetable broth
1 14.5 oz. can crushed tomatoes
1 15.5 oz. can chickpeas (1 1/2 cups)
2 cups kale, chopped or shredded
Directions
1) Heat the oil in a large pot over medium heat. Add the onion, cover and cook until soft, about 5 minutes.
2) Add the garlic and ginger and cook until fragrant, about 30 seconds. Add the turmeric, cumin, cinnamon, cayenne, and salt and pepper to taste. Add the sweet potatoes and stir to coat.
3) Add the broth and tomatoes, bring to a boil, then lower the heat and simmer until the potatoes are tender, about 20 minutes.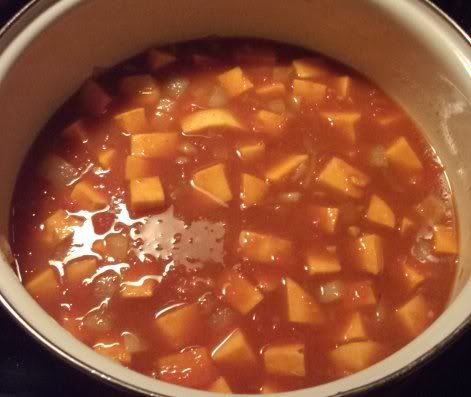 4) Stir in the kale and chickpeas. Return to a boil, reduce heat, and simmer 10-15 minutes longer.   If the potatoes are still hard, cover the pot while it simmers.  Taste and adjust seasonings. Serve hot.